Travellers ensure hundreds of disadvantaged children have a present this Christmas
8 December 2018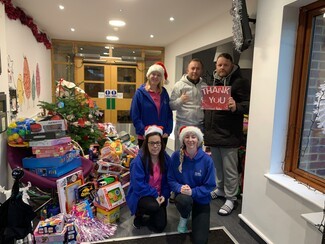 "For the glory of God," says born again Christian Bobby Butcher as he starts a Traveller toy nomination challenge as Travellers fill a high top Transit van "to the roof" with Christmas presents for children's charities
Travellers from Surrey have clubbed together to buy hundreds of toys for Christmas presents for disadvantaged and poor children, filling a high top Transit van "to the roof", sparking off another Traveller nomination challenge.
The challenge – this time for toys for children's charities - was started by Guildford based Traveller Bobby Butcher, inspired by his faith, his upbringing and by the Food Bank Nomination challenge started in County Durham by his friend Watson Harrop Jr that has swept the UK and abroad.
In a video shared on FB that received 10k views in 3 hours, Bobby Butcher urged Travellers to get behind the challenge to buy Christmas presents for children whose parents could not afford to do so.
"We've filled their bellies, now let's keep this chain going," said Bobby Butcher, who has been born again for four years and belongs to the Light and Life, a Gypsy-led evangelical Christian movement founded by 'elder' Jackie Boyd in 1983, that has swept through the Traveller community in the past couple of decades.
Within 24 hours of Bobby Butcher's challenge, a group of 23 Traveller men, armed with thousands of pounds of donations from the Travelling community, including born again Christians, Christians and non-believers, met outside Smyths Toys in Slough.
Staff at the big toy warehouse helped the men to fill 26 trolleys with toys for children of all ages, Bobby Butcher told the Traveller's Times.
"Jesus said it is better to give than receive," said Bobby Butcher, adding that as well as being inspired by his faith, his parents had brought him up to help others not as fortunate as himself.
As the Traveller men were paying for the toys at the checkouts, helped by Smyths Toys staff, they received a surprise visit from the police!
"I think someone panicked and called them," laughs Bobby Butcher.
"They had probably never seen anything like it before."
"The police where fine, they worked out that it was for charity and soon left saying they were off to fight some real crime."
Outside in the carpark the Travellers then filled a high top Transit van with the toys that they had brought and then set off to donate their haul to local children's charities.
Kids, a national charity supporting thousands of children and young people, received one donation of hundreds of toys.
Shooting Star Chase, a leading children's hospice charity caring for babies, children and young people with life-limiting conditions, were next on the list for the Transit van Christmas express.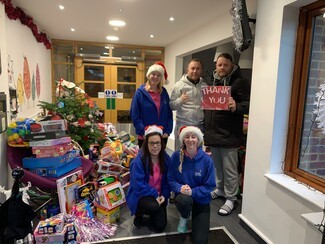 "The staff at both charities were overjoyed," said Bobby Butcher. "The children at Shooting Stars painted us a picture to say thanks."
"I want to also say thanks to all the people who took part and donated, but I want to give God all the glory and the credit," added Bobby Butcher.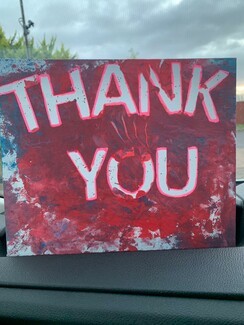 The Travellers have already started receiving heart warming messages of thanks from the parents of children they have helped.
Writing on behalf of her little girl Lizzy-Rose, 4, who had tragically lost her Dad, her mother told the Travellers that money was "tight because of benefit changes" and she would be forever in their debt.
"I will be forever in your debt in my life for you to help my little girl smile again and know that her father touch the hearts of others and may god carry her along her long life ahead of her to provide her with the love they provide," wrote Izzy-Rose's mother.
There would be so many wishes I would love to complete for princess which was her fathers requests through life but he was so sadly snatched away from us that our world has fallen apart."
By TT News
(All images and videos courtesy of Bobby Butcher)
---