Romani academic and activist Ian Hancock awarded OBE
9 January 2019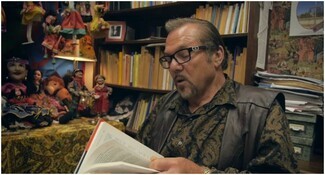 Ian Hancock, the first ever Romani Gypsy in the UK to achieve a doctorate, is to receive an Order of the British Empire and will travel to London with family and friends later this year to receive his medal from the Queen.  
Born into a British and Hungarian Romani family in London, Ian went with them to live in Canada for four of his teenage years and returned to England by himself at the age of nineteen. While in Canada he attended school briefly, but found his effort to 'fit in' an unrewarding experience. Back in London, he found jobs in the factories as a plastic garment cutter, a windscreen-wiper packer and a spray painter. Later, he worked for the late Joe Meek as a roadie for a prominent band called the Outlaws.
Ian's first entered academia when he became a student at the School of Oriental and African Studies (SOAS)in London after being enrolled there with funding from the then Labour Government. Despite having no formal qualifications, Ian had become involved with the SOAS after impressing tutors with his work on African linguistics, his committing the unwritten Sierra Leon language Krio to paper, a language which he had encountered when sharing a house with housemates from that country.  
Although had grown up in an urban Romani household, Ian was not politicised, but then two episodes of racism towards Gypsies occurred in the Midlands that so upset him that he felt moved to become involved. In the first, a Gypsy man needed to pull his trailer off the road because his wife was going into labour but was ordered to move on by the police. When the man refused, he was driven away and thrown into a prison cell where he was badly beaten by the same officers, his pregnant wife and small children having been left alone on the side of the road. In the second, three Gypsy children died in a trailer fire after being left alone when both of their parents were taken into custody. This was during the 1960s, when the police would contract professional teams using bulldozers, axes and other brutal means to move people on, a phenomenon that Ian describes in his book The Pariah Syndrome. 
Angered by these incidents, Ian contacted the Gypsy Education Council, through which he met three non-Romanies who were to have a profound influence on the direction his life was taking: Thomas Acton, Donald Kenrick and Grattan Puxon. They encouraged his participation in Romani advocacy and rights issues and he found himself playing a key role in the first World Romani Congress, held near London in 1971, where he first met some of the major figures in the Romani movement. 
Following the SOAS, Ian studied at the University of London and achieved a doctorate, the first in Britain to be awarded to a Gypsy. The doctorate was in African linguistics, with a specialisation in creole languages. Ian then moved to the USA and worked at the The University of Texas as a new assistant professor. Once he had started there, Ian was taken under the wing of a senior faculty member, the late Edgar Polome, who gave him the same advice, offered in good faith, that Ian had previously received from his supervisor at SOAS—that drawing attention to his Gypsy identity would hinder him academically. He consequently kept quiet about it until he received tenure – and hence job security—in his fourth year, a process which generally takes six years. Ian then immediately began to compile the Romani Archives and to publish widely on Romani topics, both linguistic and sociopolitical. The Archives, which line the walls ceiling-high and are piled up on the floor of Ian's office at The University of Texas, are now known as The Romani Archives and Documentation Center and is the biggest collection of its kind in the world. 
Despite these remarkable achievements, Ian has become a controversial figure in some quarters. His linguistic theories have come under attack, and his sometimes-outspoken criticism of the non-Romani monopolisation of Romani Studies has alienated him from some of those specialists. But it has been his effort to bring the details of the Porrajmos, the Romani Holocaust, to popular and academic attention which has caused him to be viewed with the most suspicion. 
One of Ian's most strident positions is found in 'Responses', published in Danger! Educated Gypsy: Selected Essays by Ian Hancock', an essay which has provoked controversy and generated debate in no small measure. Ian is asking difficult questions here. Are Gypsies once again being accused of trespassing, of stealing the property of others? Have those age-old accusations now spilt over into the academic realm? Or is it the 'overly nationalistic' position that he and other Romani intellectuals espouse which raises hackles? Can it be that those non-Gypsy organisations which seek the assimilation and ultimate disappearance of Roma have no truck with him because he speaks instead of integration and self-determination? Is this the more profound truth that remains at the edges of the modern-day diaspora experience? Many European-based organisations, Ian argues, refuse to acknowledge the complexity of Romani history and the reality that Roma are a global people, and not simply a collection of disparate groups scattered throughout Europe. 
Ian's achievements are numerous; he accepted the prestigious international Rafto Foundation human rights prize in Norway in 1997; he received the Gamaliel Chair in Peace and Justice from the University of Wisconsin in 1998; and in the same year was appointed by President Clinton to represent Roma on the US Holocaust Memorial Council. He was part of a four-man team led by the late Yul Brynner that presented the petition to the United Nations for Romani membership in 1978 and has served as the representative on the UN Economic and Social Council and in UNICEF. He was awarded an honorary doctorate with distinction from Umea University in 2002, and another from Constantine University in Slovakia in 2009. A scholarship in Holocaust and Genocide Studies has been established in his name at West Chester University in Pennsylvania, and a Roma organisation in Zagreb, Croatia, has been named The Roma Education Centre "Ian Hancock". In March 2003, he was invited by the Dalai Lama to a private meeting in India. He has received certificates of recognition from Yeshiva University and other institutions. He has a place in Leland Robison's Calendar of Prominent Ethnic Americans and an entry in Barkan's Making it in America: A Sourcebook on Eminent Ethnic Americans. He is consulted regularly by the BBC World Service and by National Public Radio in the US; he has spoken before special Congressional hearings in Washington DC, and has addressed audiences in North and South America, Europe and Japan. 
Ian Hancock's impact upon Romani Studies has been truly remarkable, both in terms of its historiography and in its reassessment of Romani identity within the Western cultural fabric. In the words of Professor Thomas Acton OBE, Chair of Romani Studies at Greenwich University in London, Hancock is leading us into 'a major period of intellectual transition in the perspectives which govern Romani Studies'. In the process, he is forcing us to 'reshape our own views of the canon from which we are selecting'. 
Ian's biggest impact, however, has been amongst Roma themselves, and perhaps this is the true measure of success: recognition within one's own community. In 1993 he created Romnet, the first interactive Romani website, which became the model for those that came after. He is a member of the International Romani Parliament based in Vienna. His position as a university professor brings him emails every week from Roma who are either in college or who hope to attend in the future and are looking for advice and encouragement; those young people are not only entering unfamiliar territory, but sadly and too often must deal with indifference or even scorn from their very own families. 
Known as the Queen's Birthday Honours, these are appointments submitted by some of the sixteen Commonwealth realms of Queen Elizabeth II to reward and highlight citizens of those countries. The tradition dates back to 1860 when Queen Victoria gave out the first such medals of Honour. The OBE itself was established on 4 June 1917 by King George V and is a British order of chivalry, rewarding contributions to the arts and sciences, work with charitable and welfare organizations, and public service outside the Civil service. The names of those who made it onto this most coveted roll call are announced each year on New Year's Day, and are awarded as part of the Queen's Official Birthday celebrations during the month of June. 
 Ian is married to Denise Davis, former Parliamentarian and House Speaker's Chief of Staff for the Texas State Legislature and now partner at Davis Kaufman LLD, and has five children.
(This article has drawn heavily from a foreword to the book 'Danger! Educated Gypsy: Selected Essays by Ian Hancock' edited by Dileep Karanth, a former student of Ian Hancock)
---