Court challenge to Bromley anti-Traveller camp injunction set for new date
19 February 2019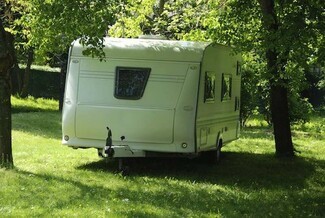 The legal challenge to Bromley Council's injunction banning unauthorised Traveller camps from its land has been given a new date in the Royal Courts of Justice in London.
The legal challenge has been brought by the charity 'London Gypsies and Travellers', represented by barristers Marc Willers QC and Tessa Buchanan from Garden Court chambers, and lawyers from Traveller law experts Community Law Partnership.
LGT's Chief Executive Debby Kennett, said that the "rapid spread" of councils applying for injunctions banning Travellers was "fast becoming one of the biggest issues facing those in the Gypsy and Traveller community who are still nomadic and living on roadside camps."
We are seeing a domino effect
The new date has been set for 15th May, 2019 after a hearing set for today was adjourned.
Anti-Traveller camp injunctions, which ban Travellers from pulling their caravans onto Council land at the risk of fines or imprisonment, are becoming increasingly popular amongst councils.
The lawyers are confident of winning the challenge and a victory will call all other injunctions into question.
Currently 21 local authorities in England have obtained injunction orders. In London, the boroughs of Croydon, Sutton, Bromley, Barking & Dagenham, Enfield, Waltham Forest, Greenwich and Redbridge have all recently applied for, or obtained, injunction orders and others, such as Wandsworth, Kingston and Richmond are in the process of making applications.
Elsewhere Boston, Basildon, Canterbury, Elmbridge, Harlow, Rochdale, Rugby, Sandwell, Tendering, Thurrock, Walsall and Wolverhampton have also have obtained injunctions.
The legal fight against the Bromley Council's injunction has been working its way through the courts since November last year, when a judge dramatically halted the case so that more time could be given after a last minute legal argument from the Traveller lawyers.
In a statement given to the Travellers' Times, barrister Tessa Buchanan, acting for LGT, summed up the challenge against the injunction in Bromley.
"London Gypsies and Travellers were granted permission to intervene in the case of Bromley London Borough Council v Persons Unknown," said Tessa Buchanan.
"This case concerned an application by the London Borough of Bromley for an injunction which would prevent people from camping on 171 parcels of land in their borough"
"In this case, we will be asking the court to consider the lawfulness and proportionality of the injunction sought by Bromley."
By TT News
---