Gypsies and Travellers react to "inhumane" Government crackdown on unauthorised camps
12 November 2019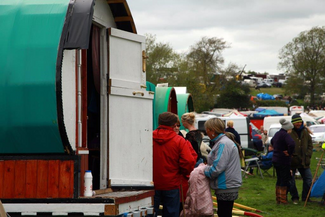 The Government's proposals to give the police more powers to "arrest and seize the property and vehicles of people who set up unauthorised caravan sites" have been described as "inhumane" by leading Gypsy and Traveller rights campaigners.
The proposals were set out in a consultation announced last week by Home Secretary Priti Patel, who said that "unauthorised encampments can cause misery to those who live nearby, with reports of damage to property, noise, abuse and littering."
"The public want their communities protected and for the police to crack down on trespassers," added Patel.
"Our proposals aim to ensure these encampments can be challenged and removed as quickly as possible."
The proposals include a move to make trespass a criminal offence which will allow police to seize the vehicles and property of those "knowingly trespassing" with the intention of living there. As well as unauthorised Gypsy and Traveller camps, this could affect homeless camps, protest camps and van-dweller camps, Traveller legal experts have told the Travellers' Times.
Other proposals include giving police the powers to evict encampments that only contain two or more vehicles rather than the current six. According to Gypsy and Traveller law experts, a caravan and a towing car or van counts as two vehicles. A horse drawn wagon also counts as a vehicle.
Other proposals include widening police powers so they can evict encampments on any part of the public highway.
Gypsy and Traveller campaigners saw the announcement of the crack down as a ploy by the Conservative Party to win more votes.
Commenting on GTR Media Facebook page, a closed group for Gypsy and Traveller campaigners, a Mr Vaughan wrote: "I thought the government tried to push this through earlier in the year but it was rejected, the police opposed it on grounds that it effectively made them bailiffs for private landowners, I can only think they're trying to gain votes by appearing to attack marginalised minorities, travellers are always used for this purpose."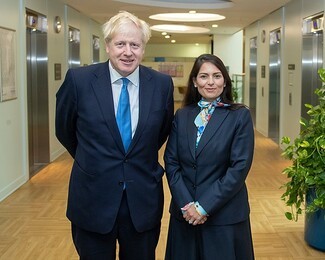 Friends and Families and Travellers (FFT), a national charity, also weighed in and called Patel's rhetoric "discriminatory" and the government's proposals "inhumane" in a statement released on their website.
The charity accused the government of focussing on the behaviour of a minority while tarring all Gypsies and Travellers with the same brush.
"It is clear that these proposals would have a devastating impact on Gypsy and Traveller communities who have been part of British life since before the 16th century, yet face some of the greatest inequalities of any group in England and Wales," it said.
"If property damage, noise, abuse and littering truly are the Home Office's concerns, we know that there already exists reams of criminal law to prevent and punish this."
The charity London Gypsies and Travellers also condemned Patel's statement as divisive. "It further reinforces the marginalisation of Gypsies and Travellers and the negative stereotypes that have such a harmful effect on the community," said Debby Kennett, LGT's Chief Executive."
Local authorities have duties to facilitate the nomadic way of life but consistently fail to carry them out, points out London Gypsies and Travellers. Given the shortage of authorised pitches for caravans in London, many Travellers have no other option but to camp in unauthorised locations. Police and local authorities already have the powers they need to evict.
"Greater powers to evict are not the solution and will only cause greater hardship for families on the roadside – increasing insecurity, encouraging public prejudice, disrupting family life, threatening health and wellbeing and preventing access to education, work and services," said Debby Kennett.
Gypsies and Travellers and organisations supporting the communities raised serious concerns about the negative impacts a further extension of police powers would bring when the government first announced a review of eviction laws last year.
LGT expressed its hope that the review would give the government the opportunity to show leadership and address the true cause of unauthorised encampments: the shortage of authorised sites.
However, the latest announcement and its tone give little grounds for hope. "None of the important issues – such as realistic alternatives to eviction like negotiated stopping – are mentioned in the government's statement. We have no confidence in the outcome of this consultation," said Debby Kennett.
"After the general election we need to see the new government taking seriously the evidence and views from Gypsies and Travellers and civil society groups that support the community."
The proposals come as dozens of councils across the country have been obtaining injunctions to ban Travellers from stopping on vast tracts of public land.
However, earlier this year the High Court refused to grant Bromley Council a de facto borough-wide injunction prevent people camping on 171 patches of land.
Campaign group London Gypsies and Travellers, represented by human rights barrister Marc Willers QC, argued the injunction was disproportionate and discriminatory.
The government said that it has made £2 million funding available to help councils "crack down" on unauthorised encampments. Councils can also help develop authorised sites using funding from the £9 billion Affordable Homes Programme, it added.
However, since this programme was started in 2016 no councils have used it to fund any permanent sites, according to a letter FFT submitted to the UN in January this year.
By TT News
(Lead photo: Stock image of Appleby Horse Fair in 2015 by Natasha Quarmby/Fields of Light Photography)
---