Minister accused of 'egging on racist witch-hunt' after Traveller camp eviction during coronavirus crisis
30 April 2020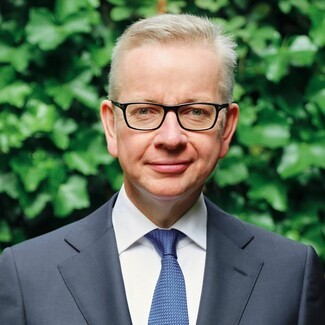 "Inhuman" - Michael Gove stands accused of racism after lobbying Surrey Police to evict a Traveller camp during the coronavirus lockdown
Gypsy and Traveller campaigners have reacted with horror after councillors on a local Facebook group urged its followers to complain to Surrey Police to trigger an eviction of a Traveller camp. The councillors were later thanked by Minister Michael Gove – the local MP.
Billy-Jo Sines, a local Romany Gypsy and a key worker in a nearby school, said: "The Travellers didn't stand a chance."
"As soon as they pulled on the local councillors where posting on local Lightwater Facebook pages (posts seen by the Travellers' Times) urging people to complain to the police, which they knew would force the police to use their special powers to evict," said Billy-Jo.
"And then Michael Gove goes and thanks them," she added.
In Gove's "long rambling" Facebook statement – seen by the Travellers' Times - the Government Minister writes:
"I am grateful to Surrey Police for serving a Section 61 Order on those responsible for the unauthorised traveller incursion in Lightwater.
I am grateful to the police for keeping me updated on the action being taken and responding to my, and others', requests," adds Minister Gove.
Section 61 powers allow police to evict a Traveller camp without a court order if enough people complain about the camp to them.
Traveller campaigners accused Gove of "egging on a racist witch-hunt."
"Are we all in it together?," said Irish Traveller/Pavee campaigner Mike Joyce.
"Not if you are Traveller it seems under this Government," added Joyce.
"We are in the middle of an epidemic and a national crisis, yet Michael Gove – a Government Minister – is choosing to spend his time egging on a racist Facebook witch-hunt to evict a local Traveller camp. His long rambling Facebook posts thanking racist campaigners are unbelievable. Hasn't he got better things to do at the moment? He is inhuman."
The Travellers pulled onto the recreation ground in Lightwater, Surrey, two weeks ago and – as per the Government's guidance during the Covid-19 lock down – Surrey Council provided waste removal, water and portaloos and did not initially evict the camp.
Then late last week Surrey Police evicted the camp 'out of the blue' using their special powers under section 61, saying that they had 'numerous reports' of anti-social behaviour from local residents. No arrests were made.
The Travellers' Times understands that a Traveller charity in touch with one of the Travellers on the camp said that the Traveller completely refuted allegations of anti-social behaviour. 'One week we were being given services then suddenly out of the blue the police turn up and evict us,' the Traveller is reported to have said to the charity.
Lightwater and the surrounding area has been called a 'hot bed of racism towards Travellers' by campaigners after anti-Gypsy signs and graffiti appeared in the village on two separate occasions, once in December last year, and again earlier this year. In one incident graffiti saying "HA HA GYPSY SCUM GET OUT" was sprayed on the gate of a local Traveller site.
"Imagine being forced back out on the road with your children and older members of your family during a pandemic that has killed tens of thousands," said Mike Joyce.
"How shocking is it that a family can't stop somewhere safe and be supported until this lock down is over and please remember we are talking about families here."
Yesterday Surrey Police and Crime Commissioner David Munro, who in an earlier statement said he stood by the actions of Surrey Police, released a statement saying Surrey County Council urgently needed a transit site – particularly during the coronavirus lockdown.
"When we are all trying our hardest to restrict unnecessary movement, having no temporary sites to direct travellers to create the risk that they could be moving from place to place in our communities which is an entirely unsatisfactory situation for everyone," said PCC Munro.
The NGO Friends Families and Travellers said that all evictions should be stopped.
 Abbie Kirkby, advice and policy manager, said: "It is only humane to ensure the very basic amenities are available to people during this national health emergency.
"Nobody should be excluded from protection because of the type of home they have. We're experiencing a global pandemic, and at this time, more than ever, we should pull together and protect one another," added Kirby.
It's only common sense that at a time of mass immobilisation as a result of a nationwide lockdown, evictions should be stopped. It would be irresponsible and cruel to push families from place to place."
Meanwhile other councils continue to follow the Government and police chiefs' advice not to evict unauthorised Traveller camps during the coronavirus lock down and to instead provide services.
However campaigner Mike Joyce said that the eviction in Surrey was 'the tip of the iceberg'.
"Evictions are still happening all around England," he said. "This is in stark contrast with countries like France, the Republic of Ireland and Germany where all Traveller camp evictions have been halted by the authorities."
The Travellers' Times contacted Michael Gove MP for comment. He did not answer our questions.
TT News
---