Councils flout weak Government coronavirus guidance to continue to evict Travellers
28 May 2020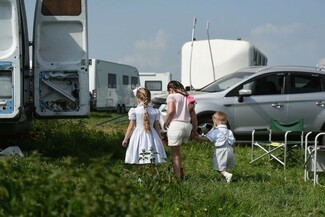 Campaigners say that the government guidance on unauthorised Traveller camps 'does not go far enough'
'Councils are best-placed to determine when it is appropriate to use their powers to evict unauthorised encampments under during the pandemic,' says Government
Amendment to 'no eviction' directive from Ministry of Justice leaves Travellers vulnerable
Guidance in Scotland and Wales much stronger say campaigners
Some councils are not evicting 
Evictions of unauthorised Traveller camps have continued throughout the coronavirus lockdown in England as charities call on the government to strengthen its guidance after a Ministry of Justice 'no eviction' directive against trespassers was amended to exclude evictions of trespassers.
Gypsy and Traveller charities and Traveller lawyers across England report that they are receiving many calls from Travellers threatened with eviction.
Travellers evicted or being threatened with eviction include families fleeing domestic abuse, families with reported positive Covd-19 tests, recently bereaved families and families with pregnant mothers.
Charities including Friends, Families and Travellers, the National Federation of Gypsy Liaison Groups and Kushti Bok, report that they have managed to stop some evictions – but not all.
 "It really is quite beyond belief that even during a global pandemic Gypsies and Travellers continue to be evicted," said Abbie Kirkby, Advice and Policy Manager for the national charity Friends, Families and Travellers (FFT).
"Some local authorities have risen to the task and have supported Gypsies and Travellers, others have left families without the very basic amenities such as water and sanitation.
 We have had many families contact our helpline worried about how they can protect themselves and others and follow the public health guidance, it's completely unacceptable that they are excluded from some local authorities' planning and delivery of support for vulnerable groups."
Some we win, some we don't
Betty Billington, Chair of Dorset based charity Kushti Bok, said that charity workers had worked hard during the coronavirus crisis trying to engage with councils threatening evictions. Some of the cases they took on where following reports in local newspapers, she added.
"Some we win, some we don't," said Betty Billington.
"Some (newspaper reports) are not what they seem. Sometimes the Travellers are being moved (by the council) to a safer or more reasonable place, but all we get from the media is that they been moved on."
At first campaigners where heartened when the National Police Chiefs' Council wrote to all UK police forces on the 23rd March urging them to consider other options than using their special police powers to evict unauthorised Traveller camps.
Campaigners were again relieved when on March 27th, when the Ministry of Justice published a directive that called a halt to all evictions using Part 55 of the Civil Procedure Rules on March 27th. Part 55 is one of the two main eviction processes councils use to evict Traveller camps alongside section 77-78 of the Criminal Justice and Public Order Act. However, on the 20th April the judiciary, after letters from the Property Litigation Association to the Master of the Rolls, amended the directive to exclude the eviction of trespassers, meaning that councils could again continue to use it against unauthorised Traveller camps. Further lobbying from Traveller law experts Community Law Partnership in the form of a letter to the Lord Chancellor failed to get the amendment reversed.
"This change of the regulations to exclude protection from eviction for families on roadside camps highlights how yet again Gypsies and Travelers are left behind in positive policy making," said Abbie Kirkby.
Gypsy Traveller charities also lobbied the Ministry of Housing, Communities and Local Government to pressure them into publishing rules or at least guidance for councils on how to deal with unauthorised camps during the coronavirus crisis. The lobbying was successful with the Scottish and Welsh Government who clearly stated that councils should not evict Traveller camps, but only had some success in England, when, on the 11th April, Stephen Greenhalgh, Communities Minister, finally wrote to councils advising that some Travellers may need assistance in accessing basic facilities such as water, sanitation and waste disposal, to enable them to adhere to public health guidelines around self-isolation and social distancing, and that other options than eviction should be considered. Lord Greenalgh's letter can be seen here.
However, Friends Families and Traveller (FFT) said that the guidance "must go further".
"We feel that guidance does not go far enough, especially in contrast with the Scottish and Welsh governments' responses, which both gave clear instructions on halting evictions and went into more detail on the support local authorities should be offering at this time." said an FFT spokesperson.
When contacted by the Travellers' Times about the continuing evictions of Traveller camps by some councils, a Government spokesperson said that they understood that some Gypsies and Travellers could be particularly vulnerable to coronavirus and needed support.
 "It is for local authorities to determine how best to support vulnerable groups including some Gypsies and Travellers who may need specific support to enable them to access basic services such as water, sanitation and waste disposal facilities during lock down," said the Government spokesperson.  
However, the Government refused to intervene with councils ignoring its guidance, saying that "settled residents" had rights too.
"We also believe that councils are best-placed to determine when it is appropriate to use their powers to evict unauthorised encampments under during the pandemic," the Government spokesperson added.
"Unauthorised encampments cause harm to the local environment, and the rights of settled residents must be respected. "
Some of the eviction threats that Gypsy/Traveller charities and lawyers have intervened in
 Gloucestershire County Council stayed an eviction action of a Traveller camp after intervention by Traveller law experts Community Law Partnership. The County Council have now said that magistrates will not be dealing with 'section 77' eviction actions for the period of the 'lockdown'
Lincolnshire County Council are tolerating a Traveller camped on private land where she is being allowed to stay for moment by private landowner after intervention by the National Federation of Gypsy Liaison Groups. The local authority are now beginning to try and put services in place after initial reluctance. They have confirmed they will not be seeking eviction.
Tewkesbury Borough Council are threatening with eviction a Romany Gypsy family camped on a car park. The family includes a woman who is six months pregnant and three children. The Gypsy family do own land locally but the council got an injunction stopping them from moving onto it because they have yet to get formal planning permission. They have appealed against the planning decision to refuse them to put their caravan there.The council have said that the family should accept the offer of hotel or B & B accommodation as they do not have anything else.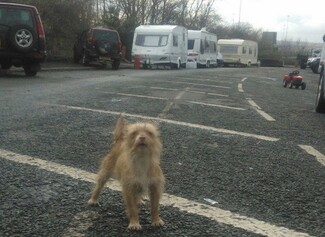 The response to the coronavirus crisis towards unauthorised encampments by Leeds City Council is seen by many Gypsy, Roma and Traveller charities as an example of 'best practice' and fits in with the government's and police chief's coronavirus guidance.
Councillor Debra Coupar, Deputy Leader of Leeds City Council and Executive Member for Communities said that Leeds is a compassionate city and that the council worked hard to prioritise their most vulnerable families and individuals. 
"We are fortunate in having a strong partnership way of working which has been developed across communities, voluntary sector organisations and the public sector during the past decade," added Cllr Coupar.
"This has enabled us to be able to work effectively together in this time of heightened need for the benefit of all.
Having reached good solutions to enable people to stay put during this health crisis, it is important that others do not travel into Leeds or attempt to join the settlements.  We are urging all communities to obey the rules to minimise contact with others through this period."
Helen Jones, CEO of local charity Leeds Gypsy and Traveller Exchange told the Travellers' Times that the Leeds City Council's policy on unauthorised Traveller camps were the result of the hard work done by the charity and local Travellers going back decades that has forged positive links with both the council and police.
However, Helen Jones added that there were concerns that other councils – particularly in the south of England - could do more.
"Why aren't other councils following the example of Leeds City Council?" said Helen Jones.
"These are the questions that need to be asked."
Mike Doherty for TT News
---