Book your tickets for Traveller Movement's annual conference
24 September 2020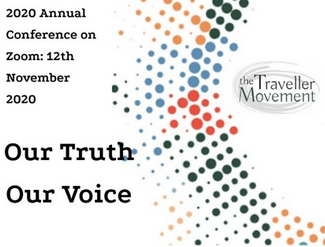 The Traveller Movement's annual national conference will take place Thursday the 12th of November, 2020.  
For the first time ever, the conference will take place completely online, with attendees joining from the comfort of their own homes.  
Entitled Our Truth. Our Voice, this year's conference is a response to the negative fallout from the C4 Dispatches programme in April of this year.  View the conference brochure here. 
'Our Truth, Our Voice' will give Gypsy, Roma, and Traveller people the opportunity to regain control of the toxic public narrative that permeated public discourse in 2019/20. From the Home Office consultation to criminalise trespass in November, to the negative media coverage of Gypsies and Travellers under the Covid-19 pandemic, to the C4 programme criminalising an entire ethnic group, it's been a difficult year for Gypsy, Roma and Traveller people. Clearer now more than ever, is the need to reclaim the narrative and take positive action.  
Speakers include the chair of the Youth Justice Board, Keith Fraser, activist Luke Smith and Rom Belong programme coordinator, Chrissie Brown. Also joining us is  Dr Omar Khan, formerly of Runnymede Trust and Director of newly established Centre for Transforming Access and Student Outcomes in Higher Education (TASO), as well as MP for Coventry South, Zarah Sultana, and Jennifer Moses, equalities lead with NASUWT, the Teachers' Union.  
The four interactive workshops will take place in the afternoon, with virtual break out rooms and trained facilitators. Each workshop will focus on a key policy area: education and economic inclusion; media representations; political engagement and democratic participation; and disproportionality in the criminal justice system.  
Join them  online for their most innovative and accessible conference to date: https://www.travellermovement.org.uk/news
CEO of the Traveller Movement Yvonne MacNamara said the following:  
"We are delighted our annual conference will go ahead this year. It's been a very challenging year for Gypsy, Roma and Traveller people but it remains important to challenge this government and hold them to account.  We look forward to seeing you all – online – in November!!!"  
Ticket information: 
Tickets can be purchased through Traveller Movement's online portal, with joining instructions to follow in the weeks leading up to the event.  
For Conference updates, follow us on social media here: Twitter, Facebook, and Linkedin  
---