Government to put £400,000 into Gypsy, Roma and Traveller children's education
9 December 2020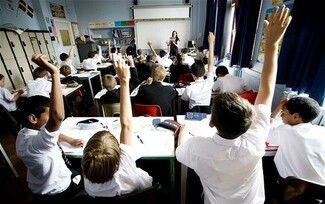 Education and training programmes to help Gypsy, Roma and Traveller children catch up on lost learning 
Programmes backed by £400,000 investment to help over one hundred children  
Tutoring, one-to-one support and expert guidance to help young people progress in education or find employment  
Children and young people from Gypsy, Roma and Traveller communities will receive extra educational support under proposals outlined yesterday (Tuesday 8 December) by Communities Minister Lord Greenhalgh. 
Evidence shows that children from Gypsy, Roma and Traveller backgrounds are among the lowest achieving groups at every key stage of education and are likely to have been disproportionally affected by the pandemic, due to lack of access to public services and digital exclusion, which impairs access to online learning.  
Backed by £400,000 Government investment, over one hundred children and young people from Gypsy, Roma and Traveller communities will receive extra tutoring, one-to-one support and expert guidance to help them progress in education or find employment. 
The first of the projects will provide online 'catch-up' tutoring for a group of up to eighty Gypsy, Roma and Traveller children to support their learning and tackle the attainment gap between these children and their peers. 

The second will provide up to thirty young people who are not in education, employment and training in Derbyshire, London, Essex and Kent with access to targeted support and educational resources to help move them into further education or employment.   
Communities Minister Lord Greenhalgh said that all of the evidence shows that members of Gypsy, Roma and Traveller communities continue to face some of the steepest challenges in society, and the pandemic is likely to have increased these yet further, especially in education. 
 "Children from these communities have been disproportionately affected by being out of school, which is why I am so determined to help them bridge the gap to their peers," said Lord Greenhalgh. 
 "These important projects will ensure that vulnerable children have a fair chance in life and are given the opportunity to gain further skills and experiences to help them in education or in the workplace." 
Pauline Anderson, Chair, and Yvonne MacNamara, CEO of The Traveller Movement said that they were delighted to be able to support the development of this new programme, which will afford Gypsy, Roma and Traveller young people opportunities that have not previously been available to them.  
 "We will provide one-to-one tutoring catch-up to Gypsy, Roma and Traveller children that have fallen behind on schoolwork due to the pandemic, alongside support for up to thirty young people not in education, employment or training to gain level two functional skills in Maths and English," said Yvonne MacNamara.
Michael Farrell, Interim Programme Manager of Open Doors Education and Training said that was are really excited about this venture as Gypsy, Roma and Traveller children and young people have traditionally fared poorly in education league tables.  
"Programmes such as these are vital for ensuring young people are valued, supported and given opportunities to develop career prospects and access to further education and training pathways,"  said Michael Farrell.
The Ministry of Housing, Communities and Local Government (MHCLG) is leading the development of a cross-government strategy to tackle the inequalities and improve outcomes faced by Gypsy, Roma and Traveller communities across the country. 
 The Department for Education is also running a National Tutoring Programme, worth £350 million, which will increase access to high-quality tuition for the most disadvantaged young people over the 2020/21 academic year. 
 This will help accelerate their academic progress and prevent the gap between them and their more affluent peers widening, said the Government.
This move is the first Government direct financial support towards the education of Gypsy, Roma and Traveller children in over a decade.
In 2010-11 the then Conservative/Liberal Democrat Government started to slash council funding meaning that many councils then cut or deleted their specialist Traveller education teams.
Data from the Department of Education shows that from 2010 to 2017 for all other white groups the trend for young people moving on to higher education after school is upwards. However, for Travellers of Irish heritage it has declined and for Gypsy/Roma groups it has remained static. 
TT News
---