Vardo Project Curatorial Officer Job Available
6 January 2021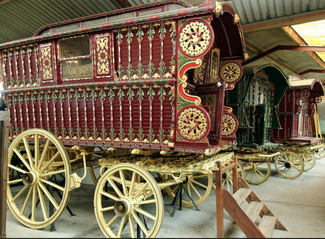 Museums Worcestershire are looking for a Vardo Project Curatorial Officer to work 17.5 hours per week on the 3 year John Ellerman funded Vardo Project. We are looking for someone who can bring colour, life and stories to our wonderful collection of Gypsy Vardos (caravans) through research, developing the accompanying archive, forging lasting relationships and conservation projects. We are looking for someone who believes that this unique collection is important and extraordinary, and who wants to capture its history, culture and essence.
Worcestershire County Museum cares for an extremely rare collection of Gypsy caravans, or 'vardos', including the Bow Top, the Square Bow, the Open Lot, the Ledge and a Hawker's Cart. Each caravan has an extensive painted exterior and an equipped and decorated interior, most notably the spectacular Gypsy Queen. The vardo collection is, to our knowledge, the most complete in the UK.
The collection has national significance as the largest collection of Gypsy caravans on display in the country. It gives a rare insight into a history of our rural communities. This collection is important to Worcestershire where the GRT community has historically been the largest minority ethnic group. But the significance of this collection and the stories it can tell about a community's way of life, identity and history of exceptional craftsmanship extends far beyond our county boundaries to take on a national, and potentially international, significance.
Despite the collection of caravans being on permanent display, the museum has little research and holds few contextualising archives. The John Ellerman Foundation funded Vardo Project Curatorial Officer will work exclusively on the Vardo project 17.5 hours per week for three years, to engage in research into the collection and to illuminate its context by:
developing our archive and contextualising collections across a range of media and topics, and making them accessible through digitisation, publication and interpretation
developing a specialist research-sharing network nationally and internationally
scientific investigation of the decoration and craftsmanship represented in the collection
working with volunteers, conservation of a vehicle as a case study in collections care and conservation to research and understand what appropriate levels of restoration looks like in transport collections.
working with the GRT community to record community history 
publishing and presenting the results of  research so that it can be widely accessed and used.
updating interpretation for the general public
Key requirements
To deliver the John Ellerman Museums and Galleries Funded Vardo Project to the project work plan, aims and objectives.
To be the public face of the John Ellerman funded Vardo Project, undertaking and attending enquiries, talks, tours, events and the creation and dissemination of research relating to the projects.
To be responsible for developing a supporting archive across a range of media in order to contextualise Worcestershire County Museum's Vardo collection
To liaise with relevant archives, museums, contractors, institutions, specialists, groups and  GRT and farming communities to create and maintain networks and relationships.
Skills & Experience
Experience
Experience in a similar community focussed or heritage role
Experience of recording, archiving and communicating heritage information
Experience of responding to enquiries from the general public and specialist researchers
Experience of handling and working with museum objects
Specialist Knowledge        
History and arts knowledge and specialist knowledge of GRT history and culture desirable
Knowledge of the professional standards of care for museum objects
Level 3 qualification in a related subject or equivalent experience in a museum or community focussed heritage role
Museum or heritage qualification or equivalent experience in a museum or community focussed heritage role
Job Related Skills and Abilities  
Passion and enthusiasm for the work of Museums Worcestershire
Computer literate with good keyboard skills
Excellent verbal and communication skills
Able to work collaboratively within a team to achieve results.
Ability to build effective relationships with staff, partners and stakeholders
Team working skills and interpersonal skills
Delivering on budget and in time
Able to work on own initiative if/when required
A flexible approach to the day to day demands
A driving license and access to a vehicle/willingness to drive the museum van
Additional information
For more information please contact Deborah Fox on deborah.fox@worcester.gov.uk
Closing date: 3rd February 2021
Interview date: 11 February 2021
For more information and to apply visit: https://www.wmjobs.co.uk/job/86675/vardo-project-curatorial-officer/
---