Smith's Kushti Podcast: Romani feminism
8 March 2021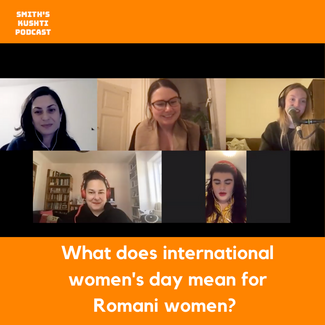 Today is International women's day, a day to celebrate and critically reflect on the achievements and ongoing challenges faced by women.
 YTT Editor Lisa Smith explores what international women's day means for Romani women in an episode dedicated to Romani feminism as part of Smith's Kushti podcast. An audio series connecting Romani history, identity and politics to current news and views in Germany and across Europe. 
This episode brings together five Romani women from the USA, UK and Germany to discuss acts of resistance, feminism, women's rights and the vast amounts of potential Romani women have for generating change – not only within their own lives and communities but in broader society. With music from Riah Knight and poetry from Lois Brookes - Jones.
Featured guests:
Author & Academic: Dr Ethel Brooks
Musician, Songwriter & Actress: Rhiah Knight
Teacher & Women's rights advocate: Sabina Salimovska
Poet & Co-Founder of the Dikhlo Collective & Travellerpride: Lois Brookes-Jones 
The podcast is supported by Berlin-based organisation Roma Trial where Lisa is currently placed doing European voluntary service. 
Listen to Smith's Kushti podcast HERE.
---