The Dukes in Lancaster's work with Travellers nominated for BBC Radio Lancashire's Community Project of the Year
25 June 2021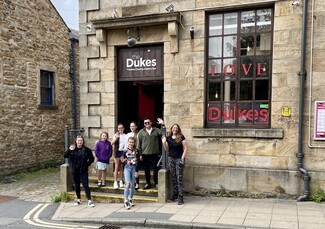 The Dukes Theatre in Lancaster's celebrated work with young female Gypsy, Roma Travellers communities has been shortlisted in BBC Radio Lancashire Make A Difference Awards.
Formerly known as the Community Heroes Awards, the Make a Difference Awards recognise unsung heroes from across the county and are designed to reflect everything from good neighbours to voluntary work.
Carl Woodward, Creative Learning Manager at The Dukes says: "We're incredibly proud that our vital Our Voice project has been shortlisted for Community Project of the Year. Theatre can change lives, and through these past 15 months, we've looked for every possible way to make a difference to our communities." 
Over the course of the pandemic The Dukes held lively interactive online and in-person drama workshops with young GRT girls exploring autobiography to challenge stereotypical portrayals of their communities. 
Weekly term-time sessions are led by theatre practitioners Emma Rucastle, award-winning performance artist Bryony Kimmings and reality star Amy Hart. 
Speaking about the Our Voice project, Roxana Sardais, Team Leader at Lancashire County Council's Ethnic Minority/GRT Achievement Service says: "The Dukes Theatre's current work giving a voice and opportunity for self-expression to young GRT women is a particularly important project as there are not many projects nationally focusing on this group and aim." 
BBC Radio Lancashire's Managing Editor, Andrew Bowman says: "We want to celebrate the wonderful people of Lancashire and the amazing work so many do in the local community. As they do every year, we hope our listeners get behind our Make a Difference Awards.
BBC Radio Lancashire Make A Difference awards ceremony will take place at Blackpool Winter Gardens in September. 
You can find out more about the wonderful young people and the project here and here
---