Martin Docherty-Hughes MP to headline Traveller Movement 2021 online national conference – November 18th
3 November 2021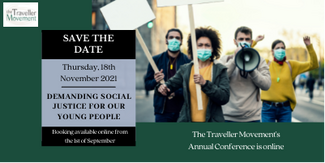 The Traveller Movement's 2021 annual conference will explore complex, interconnected issues and will consider what the future holds for GRT young people; with a particular focus on inequalities in education, gender, employment, economic inclusion, political & civic participation, and overrepresentation in the criminal justice system.
Workshops will include; "If not now, when? Securing positive change in the criminal justice system", "'The Shame Game': Gender, healthy relationships and abuse in the digital environment", "Building the Road to Success" and "Access Denied".
The keynote speaker for the conference will be Martin Docherty-Hughes MP, Scottish National Party and co-Chair of All Party Parliamentary Party for Gypsies, Roma and Travellers.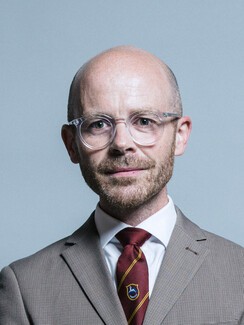 The Traveller Movement Conference will take place online on the 18th November, 10am – 4.30pm.
Tickets are between £28-£59.
To register please follow this link: Traveller Movement conference TICKETS
THERE IS A LIMITED NUMBER OF FREE SPACES FOR TRAVELLERS (TM MEMBERS). PLEASE EMAIL OFFICEADMIN@TRAVELLERMOVEMENT.ORG.UK OR CALL 020 7607 2002
You can read the full conference brochure by clicking on the link to the DOWNLOAD below:
Workshop 1: If not now, when?
In this workshop, we will explore the changes, problems, and upcoming reform in the youth justice system. We will continue the conversation on school exclusions and aim to understand in-depth, how the school-to-prison pipeline impacts Gypsy, Roma, and Traveller children in the youth justice system. In light of the challenges, we will consider what is on the horizon in terms of youth justice reform, how individuals and charities can push for change in an ever more carceral environment, and how these changes specifically impact Gypsy, Roma, and Traveller youth.
Workshop 2: The shame game
More than 1 in 2 girls have experienced online harassment. 'Image-based abuse', stalking and domestic violence are all forms of gender-based violence and perpetrators are increasingly using online tools to abuse their victims. Women and girls from the Gypsy, Roma and Traveller communities face additional harms and barriers to support. In this workshop, we will examine the impact of these additional harms – such as 'shaming' or 'scandalising' – and the barriers to accessing much needed support. Through an exploration of digital safety, online harm and healthy relationships, we will brainstorm how to create a safer online environment for women and girls in the Gypsy, Roma and Traveller communities.
Workshop 3: Building the road to success
Gypsies, Roma and Travellers are the ethnic groups with both the highest rate of unemployment and highest rate of economic inactivity. Only 40% of GRT aged 16-64 were employed, compared to 71% of the wider population. (Burchardt et al., 2018). The barriers to Gypsy, Roma and Traveller youth to find sustainable education, employment, or training are complex and require immediate attention from the government and the youth sector. This workshop will introduce an ongoing piece of work into understanding how the Gypsy, Roma and Traveller sector and mainstream youth services are delivering youth provision; and explore how youth services can be tailored going forward to meet the needs of Gypsy, Roma and Traveller young people.
Workshop 4: Access denied
The Gypsy Roma Traveller youth community face significant institutional barriers that often prevent full and fulfilling participation in civic life. This workshop will explore nature of these obstacles, and how they impact upon young GRT people at the ballot box and beyond. We will assess how to promote and encourage participation in democratic life and political activism; and consider how we can build capacity in our communities to ensure all young people are empowered and equipped to advocate for positive social change.
TT News/Traveller Movement press release
---