Traveller and Gypsy Recipe Book out in time for Christmas
30 November 2021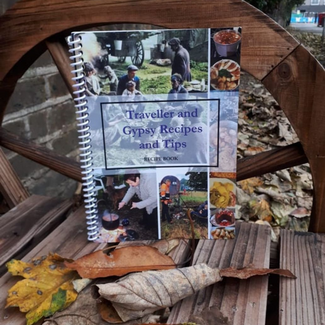 Based on recipes from the Traveller and Gypsy Recipes and Tips Facebook page, which has nearly 100,000 members, the book is on sale now for £19.50 including postage
The idea for the Traveller and Gypsy Recipes and Tips book arose out of Gypsy, Roma and Traveller history month in June 2021. Gypsy, Roma and Traveller organisation Traveller Movement ran a campaign about the importance of food throughout Gypsy, Roma and Traveller culture.
The recipes and photos were collected from the Traveller and Gypsy Recipes and Tips Facebook group which sprang up during the Covid pandemic for use in the campaign. It was so popular and people had so much to say that the idea for a printed recipe book with modern and traditional recipes was born.
Traveller Movement Communications Assistant Anna Dallow (who also designed the book on behalf of Traveller Movement said "We wanted to do it to give an insight into the stories and recipes that had been passed down through the generations. There is a section of the recipe book called 'behind the recipes' that talks about where they came from. We also noticed in our social media campaign during GRTHM that many people weren't aware of importance of food in GRT culture" Anna continued" so we thought it would be a great community sharing project. The Facebook group has grown hugely during the pandemic, with members from all over the world and we are often told how important this group has been for mental wellbeing during lockdown and how nice everyone in the group is so we wanted this recipe book to continue to contribute to our member's wellbeing as we come out of lockdown."
'Traveller and Gypsy Recipes and Tips' is out now and costs £19.50 (including postage).
You can buy it from the Traveller Movement website  https://travellermovement.org.uk/recipe-book/
---