Salie plays an Elvis number at Stow Fair – That's Alright Mamma!
13 May 2022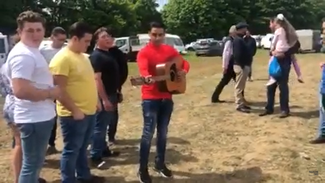 Sally Barter, Drive2Survive Trustee, was at Stow Fair in Gloucestershire yesterday and bumped into Salie, who played a little Elvis number for her.
"I think this captures the atmosphere of Stow Fair perfectly," said Sally Barter. "His name is Salie and he wants to be famous!!"
And so he should be famous with a voice like that!
Drive2Survive, a Gyspy, Roma and Traveller led charity, was set up to campaign against the new Anti-Traveller laws. They will be at all the fairs this years so watch out for them!
Sally Barter/TT News
---