Ruby reviews – Louise Doughty's 'Stone Cradle'
25 July 2017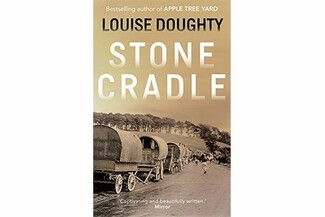 Ruby-Leigh Smith reviews Romany author Louise Doughty's 'Stone Cradle' and finds it 'unimaginably brilliant'.
Stone Cradle is an incredibly heart-wrenching novel written by Romany author Louise Doughty, whose other notable works include Apple Tree Yard, which was recently adapted for television.
Stone Cradle is loosely based upon Doughty's life as a Romany; and is set between 1875 and 1960, swapping between two strong female characters; Rose (a Gorger) and Clementina (a Gypsy), and giving a recount of all that happens to them in their lives, which they both share with the same man - Elijah Smith. Clementina is Elijah's mother, whilst Rose is his wife.
This novel was unimaginably brilliant. I enjoyed every word on every page, and found that the characters were real; like a film was playing on the pages in front of me as I read. The story itself held a rich portrayal of a Romany family, extended over three generations, and was so exquisitely written that I found myself wondering if I would be able to get away with fooling my teacher into thinking that I was reading a textbook, whilst actually reading Doughty's masterpiece behind it.
Every word that had been written was obviously carefully selected to invoke the utmost feeling of the reader. It is rare to find an author who can write as Doughty can, and it is not often that I get to read such a sumptuously delicious story. Louise Doughty is a true artist, and I cannot wait to read more of her gripping stories.
By Ruby-Leigh Smith
---