Young Gypsy to appear in Holocaust Memorial Day film
26 January 2017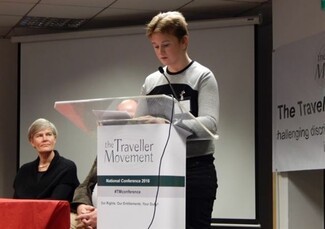 Ben Bennett, a young Romany Gypsy boy from Notts, will be one of the people featured in a film that will be shown at this year's Commemorative Ceremony for Holocaust Memorial Day 2017, which will take place today in Westminster, London.
Ben is a contributor to the short film, which will be seen by all the people attending the event, and in it he reflects on continuing anti-Gypsy, Roma and Traveller hate here in the UK.
Holocaust Memorial Day itself will be tomorrow on Friday 27th January and there will be many events held in the UK this weekend to mark it.
The theme for this year's Holocaust Memorial Day and the year ahead is 'How can life go on?' A promotional film already released by the Holocaust Memorial Trust – which the Travellers' Times will be sharing this Saturday – concentrates on this theme and prompts us to examine our "social consciences" and act now to counter hate-crime and discrimination, before they lead to genocidal acts.
Ben  - like many young Gypsies and Travellers – has been a victim of hate crime on many occasions and spoke about his experiences at the recent Traveller Movement Conference in November last year.
The Traveller's Times spoke to Ben and his family yesterday as they prepared to travel up to London to attend the event. Nathalie Bennett said that she was "proud" that Ben had been chosen by the Holocaust Memorial Day Trust to appear in the film and that he would be wearing a "smart two-piece black suit."
Ben Bennett told The Travellers' Times he felt "honoured" to represent his community at the ceremony and in the film.
I feel honoured and privileged to be involved in the Holocaust Memorial Day event and represent my community and raise awareness about how hate crime and racism effect our community," he said.
Prince Charles is the Patron of the Holocaust Memorial Day Trust is and he will be amongst the many dignitaries who will be there to see the film and to remember the victims of the Nazi's murderous and genocidal policies during the Second World War which included Jewish people, other ethnic or national groups – such as Polish people and the Roma and Sinti - and minority groups like Gay people, the disabled and Jehovah Witnesses and political opponents to the Nazi regime such as pacifists and socialists.
An estimated ¼ - one million Roma and Sinti (German Gypsies) were murdered by the Nazis during the Second World War, but German state persecution of German 'Gypsies' had been growing since Hitler took power in 1933.
Named as a racial enemy in the 'Protection of Blood and Honour' Nuremberg laws of 1935, German Gypsies were stripped of citizenship and lost their right to vote. Compulsory sterilisation of 'asocial' Gypsies had begun in 1934.
A popular music hall song of the time was 'Come Gypsy show me how you work', which mocked the Sinti and was referred to many times in the headlines of the German press.
In 1938, the first 'Operation Work-shy' took place with many Gypsies being rounded up and forced into municipal labour camps.
In 1942, Heinrich Himmler, head of the SS, issued the Auschwitz-Erlass declaration and ordered the deportation of "Zigeuner ('Gypsy) halfbreeds, Rom Zigeuner and members of Zigeuner tribes of Balkan origins with non-German blood" to Auschwitz.
'Pure blood' German Sinti and Gypsies with German blood who has served in the German army where meant to be exempt, but these distinctions were often ignored by municipal authorities and police during the round-ups.
Victims of other genocides - such as the more recent Rwandan genocide in Africa - will also be remembered during the ceremony.
Many campaigners believe that the genocide of the Roma and Sinti (also known as the Porrajmos or 'Devouring') has not received the attention it has deserved in the past. However Roma, Romany and Sinti representation and remembrance at Holocaust Memorial Day events has been growing in recent years. This year, The Holocaust Memorial Day Trust has a dedicated web page and many resource packs for people wanting to learn more about the Roma and Sinti genocide.
Ben Bennett said he hoped his input into Holocaust Memorial Day would add to the efforts of other campaigners who were campaigning for recognition of the Porrajmos and for a better life, free from discrimination and prejudice, for Gypsy, Traveller and Roma people today.
"Hopefully one day we can live together in peace and harmony and love life," he said.
(Main picture – Ben Bennett speaks at the Traveller Movement 2016 conference as Kate Green MP looks on © TT)
---