Family Fund aims to help Gypsy, Roma and Traveller families with disabled children
12 November 2015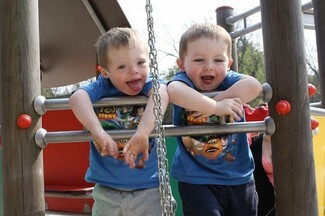 A charity that gives special grants to families bringing up disabled children has approached the Travellers Times because they want to do more to help disabled Gypsy, Roma and Traveller children.
Family Fund is a charity that provides free grants for families who are raising a child or young person with a disability or serious illness in the UK.
Last year, Family Fund helped 72,043 families across the country. The charity aims to give families raising disabled and seriously ill children and young people the same opportunities as others by providing grants for essential items such as washing machines, sensory toys, computers, family breaks, bedding or clothing.
Elliot's Story
Elliot, who is a very lively boy with Down's Syndrome, is one of the many disabled children that Family Fund have helped and he loves being outside and going to the park. Claire, Elliot's mum, first heard about the Family Fund in 2008 whilst she was at a family support group run by Capability Scotland at Westerlea Early Years Centre, Edinburgh. When the family applied for the first time they chose to apply for a holiday at Haggerston Castle, a Haven holiday site that Elliot, Claire's son, loved.
"We have applied to the Family Fund ever since we first went to Haven. We have had help with fencing for the garden which has completely transformed it. Elliot can now go out into the garden and feel completely safe, and I don't have to worry that he will be running into the road, which he did like to do before."
"Elliot breaks a lot of things. In the past he has had televisions in his room and has smashed every one. I think it's because he wants to touch the screen, but he also broke the living room TV by hitting it with a guitar so it could be partly frustration as well."
"When the Family Fund were able to help with a new TV for Elliot I had decided to stop replacing the TVs straightaway as I just couldn't afford it so he had been without a TV in his room for over six months. He was so delighted when he got home from school and saw the TV, his face was a picture. He said 'Not smash this one mummy' over and over."
"Before he would come home from school and be bouncing off the walls, now he gets home and asks me to put on Peppa Pig or Mr Tumble and will sit calmly and quietly for about half an hour which is brilliant. It also means that his two younger brothers get a chance to play with their toys while he is watching TV."
"Without the help of the Family Fund it would have taken me forever to save up because as soon as you have a bit of money saved something else always comes up that needs to be paid for first."
It can be a struggle for families raising a disabled or seriously ill child. Family Fund grants can help ease some of the additional daily pressures families face.
To request an application pack or to find out more about Family Fund, please visit the website:
www.familyfund.org.uk or phone 01904 621115
Facebook: www.facebook.com/familyfund
@familyfund

---