"I'm Henry, I'm a Traveller, I'm a university student, and I'm gay, and it's ok. I will stand up and be counted."
14 June 2018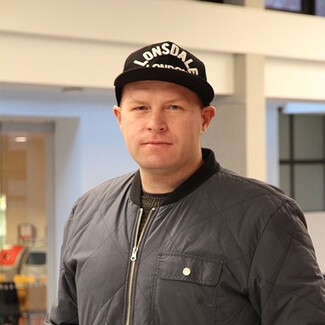 Traveller activist Henry Chapman, interviewed by the University of Central Lancashire (UCLan),  where he is a community and social care policy and practice student.
What made you choose UCLan?
I moved to Bolton six years ago and I was a massive activist for the Gypsy Roma Traveller (GRT) Community, and with my life experience, to push myself forward, I needed a degree. I came out of the professional life and came to UCLan. It has really set me up and opened so many doors.
The School of Social Work, Care and Community here is really, really good and it is all based around the work I want to do. They've been so supportive, as there aren't many travellers who come into education at this level and for me going into higher education is really an unknown - but I think the most important thing for me is that we have good role models in the community because the media portrays something that I don't associate myself with. At UCLan, I think they now recognise that there are more GRT Community members that want to come to here.
What made you choose to study your course?
I chose to study social care here at UCLan largely because of my passion for the subject. I was eager to choose the course because of my passion about the policy in practice side of things, in particular, how things are set up. The reality is, we look at theory and how and we have gotten to where we are today. I would not change the people. My fellow students for example, there are many mature students like myself on the course. 
I really think that I bring a lot of professional experience and life experience into the lectures. I think it helps the other students as well. I think it's important because in reality, social workers and members of my course that go into that profession in the future should know about the marginalised group of people in society. I'm enjoying everything about the course, I've really embraced student life despite the fact I thought I may have struggled academically in the past. The course has really empowered me as a student to be honest, and so many doors have opened for me. I go and speak at other universities as well and take part in conferences.
What would you say to potential students who want to study your course at UCLan?
For me, this is an amazing institution, the School of Social Work, Care and Community has massively empowered me, and for any student that comes here, there is massive support - genuinely, all around. The lecturers are really supportive and really approachable as well. Dr. Cath Larkins has done so much research around the GRT community, she's a great ambassador that works here, and she's so supportive. Dr. Clare Stone as well - she's really proactive in trying to understand more about the community.
What would you say to potential students of the same background as yourself that want to study your course at UCLan?
The one thing in our community is that family is everything. It's fine for me because I'm a mature student now, but if you've got 18 or 19 year olds coming here from our community who know just 'family', it's really important that some of the staff have a bit more of a grasp on their culture, their needs and so on. I think it's important that they see that the university has taken an interest in different culture as well. We are a really multicultural university here which is a really good thing. As well as being part of the GRT community, I am also a member of the LGBT community and I think it's important to say, I'm Henry, I'm a traveller, I'm a university student, and I'm gay, and it's ok. I will stand up and be counted. I feel like I have torn up the rulebook in some ways.
---