"Living a peaceful and happy life does not cost the earth"
28 November 2019
The Travellers' Times visits a Romany Gypsy and Traveller site with a difference - it's completely off-grid and run entirely by solar power!
Somewhere in the north of England on a three and a half acre private Traveller site, a Romany Gypsy family and friends are doing their bit to combat climate change by going completely off-grid –  they are connected to no utilities like gas, water or the national electricity grid - and yet their unique move towards complete self-sufficiency started out as necessity.
Richard and Nathalie Bennetts' site is off a country line a few miles from a market town, is surrounded by mature leafy trees and English native hedging, borders on one side on a gushing stream and looks beautiful and verdant on a summer afternoon. There are caravans and chalets dotted round and big banks of solar panels angled towards the rising sun, some of them higher than a transit van and three times as long.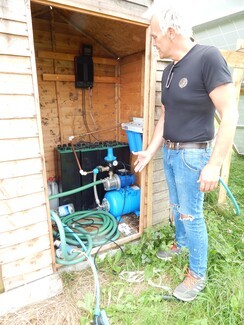 Richard Bennett, "A proud Romany Gypsy man" explains: "It started off as a necessity. We are miles from any sewers and water utilities. We had a quote for ¾ of a million pounds to get connected to the mains electricity. The electric company said they would have to build a new substation just to connect us to the national grid. We are now completely self-sufficient and off-grid."
"It started off as a temporary thing until we managed to get connected with electricity," says Richard's wife Nathalie Bennett. "But then we stuck with it. We haven't had a utility bill, water, gas or electric, for five years."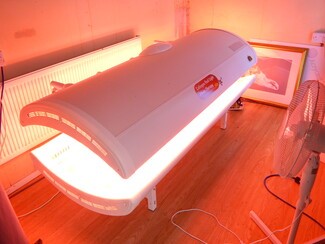 "And we have built it up using second hand and sometimes free materials and equipment. But that's the Traveller way of life and has been for centuries," adds Richard.
"We are the ultimate Wombles," laughs Nathalie.
The site now has its own bore-hole used to pump fresh water from deep underground, compost loos, solar panels for electric, mobile wifi, a sixteen seat cinema with a recycled screen and a bar with a pool table for family and friends to come together and relax in, a classroom where skills are shared and learnt, a laundry, and even a sun bed suite – powered by the sun itself! Richard will soon be making his own bio-diesel, using a state of the art filter system that recycles cooking oil given away free by café's chip shops and restaurants. "They can't get rid of it without paying for it to be dumped," says Richard. "These solar panels would have become landfill. Instead they are providing electricity for our site for free. And we brought them second hand for a song. The cinema screen is an old wipe board taken from a school skip for free with permission, and the social club structure was built with fencing panel seconds given to us by a friend in the fencing trade."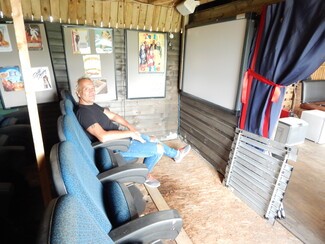 During that five year journey of discovery and necessity, Richard, who has "qualifications coming out of his ears and tons of experience in electrical engineering, plumbing, gas fitting and connections within the trades," got bitten by the eco-bug.
"We were born and thrived 99% of our time without electricity, gas and other utilities, what's the difference now?" Richard says. "What do we want to do? Burn the planets resources out? Living a peaceful and happy life does not cost the earth."
By Mike Doherty/TT
---