Traveller Michaela Tyers works to improve the health of her community
2 March 2016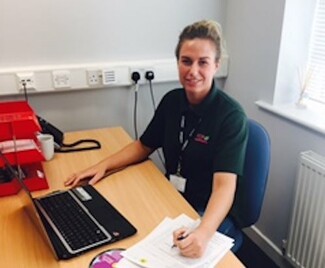 Michaela Tyers is a Health Trainer working with the GRT community across County Durham the project aims to improve the health of the people from the community whether they live on sites or in bricks and mortar.
Michaela started working on the GRT Health Trainer project in January 2015. Since starting she has completed her Level 3 Health Trainer course and Level 1 IT course. Michaela is from the Traveller community and has been using her new skills to help support her community with lifestyle changes they wish to make.
Michaela and fellow GRT Health Trainer Catriona Grime offer one to one or group support to eat healthier, become more active, stop or reduce smoking and reduce alcohol intake. They also offer NHS Check4Life health checks including a blood pressure check, cholesterol check*, height and weight and lifestyle assessment. Michaela's family have benefited from the health trainer services on offer
"My Dad has had a health check; he hasn't even been to the doctors in 30 years! So that is a big thing for him. My little sister comes to the drop in and gets weighed in so she is starting to get more conscious of the way she eats"
Michaela is passionate about improving the health of the GRT community and has seen improvements first hand with the provision of healthy cooking sessions increasing awareness of sugar, salt and fat content of food and clients who have been supported to stop smoking.
"The changes have benefited the whole family's health and wellbeing"
Michaela has faced challenges along the way getting back into work after maternity leave, and she couldn't even turn a computer on in the beginning so had to learn those skills
"I am most proud of passing my health trainer course because I thought I would never be able to do anything like that."
If you would like any further information about the project or live in County Durham and would like to access the GRT Health Trainers please contact us on 01325 321234.
---