'Hold your head up high and keep walking' says Ricky Price
31 October 2018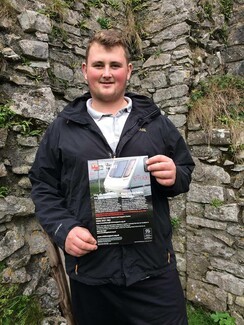 To mark #anti-bullying week 21 year old, Romany Gypsy, Ricky Price from Pembrokeshire speaks out about the importance of combating bullying in schools and the impact it had on his own life with the aim to inspire others.  Ricky is now stronger than ever and is focusing on his future ambitions to support other young people in education as a Casual Community Trainer for Travelling Ahead.
I had my own life which I enjoyed. I come from a Gypsy culture and I enjoyed doing my own things in a close-knit community. I attended a school that I didn't want to go to......writes Ricky Price.
I had a normal life but my friends had different cultures from me. I said, " I am not like the same as the rest". There were other Gypsy boys, but I was different and I did well throughout school. I didn't try to be like the other boys. During year 10, things in my life kept going wrong for me. I hung around with the wrong group of boys, my mother told me that my mates would get me into trouble, she was right about that. I felt that I had to copy the boys to fit in with them. I didn't feel happy with my emotions, my mother wanted to help but I didn't want to tell her what was going on in my life but she had a feeling that there was something going on. When I was in school I was getting bullied. They had no reason to call me names but they made me feel that I had no control over the way I felt. Wherever I turned they were there- stirring, laughing and shoving me like a little child would. They would push me and call me names like " gay boy" or saying " fatty go lose some weight".  It didn't stop there. It carried on, on the buses. I had to move buses as they kept calling me terrible names.
I knew I was lucky, that I had someone to go home to and the bullies didn't. I knew that they never thought about their own lives when they were having a go at me. The bullies were like lions in the wild tearing me apart. Some boys were older than me but some were younger all thinking they could keep on bullying me. My mother was seeing what they made me into. They made me feel like an unwanted boy. It devastated me.
As I became more unhappy I ran away. My mother didn't know why but I decided that I wanted to leave everything behind. I had come to the stage where I felt life wasn't worth living, I couldn't get away from being bullied, no one would listen to me and I had no way out so I thought I should kill myself.
I planned how to get out of my life and I had decided which way I would do it but it was my little sister who stopped me. I had to tell my mother why and how I wanted to kill myself and she burst into tears she helped me get through everything, I told her it was all fixed  but I still felt very emotional.
Then a teacher who was greatly concerned spoke to me, I told them everything, they told my mother and when I got back from school my mother said to me, "why did they say that again". From then on everybody helped me, everybody listened to me and I had help because my mother put everything in place. The bullying eased up and the school sent me to a doctor who helped me with my mind and with my health and well-being.
I finally found a break in life where I felt happier at home but in school I still had trouble with a few Gypsy boys, they tried to pick away bit by bit of my life. Then I had a sudden idea to just ignore the boys and carry on with my life. The bullies have got nothing: no jobs, no education. They are living their life with nothing. They failed all their exams to try and make themselves fit in with the rest of the boys. The moral of the story is talk to people, your family, your school. There are lots of people who will help and don't let anything get you down. Hold your head up high and keep walking. What goes around comes around!
Ricky is currently a youth advisory group member for Travelling Ahead helping plan and deliver an annual national youth forum. His future ambitions are to provide training and education to schools around Gypsy and Traveller ethnicity and culture to enable them to better support their Gypsy and Traveller pupils in Wales.  
"I didn't realise how much my life has changed. Now my new job is a Casual Community Trainer for Travelling Ahead and I will keep on looking ahead!" 
Some Gypsy and Traveller children can experience bullying in schools if you have read this and need some support the following organisations offer confidential advice and help
Bullying UK https://www.bullying.co.uk/ 
Childline https://www.childline.org.uk/get-support/ask-sam/bullying-abuse-and-safety-asksam/im-being-bullied/
Young Minds https://youngminds.org.uk/find-help/feelings-and-symptoms/bullying/
Strong Young Minds https://www.thesymproject.org/
Main photo:Ricky Price showing his support for new posters to encourage reporting of hate crime and hate incidents from Gypsy, Roma and Traveller communities during Hate Crime Awareness week. 
---